On Opioid Misuse Prevention Day, August 31, Your Life Iowa pauses to honor those who have died from an overdose and reflect on the grief of those they left behind.
We encourage you to learn about opioid addiction and how you can take steps to keep yourself and your loved ones safe.
Opioids are a class of drugs used to reduce pain, including prescription opioids, fentanyl and heroin. More than 564,000 people died from overdoses involving any opioid, including prescription and illicit opioids, from 1999-2020 (CDC).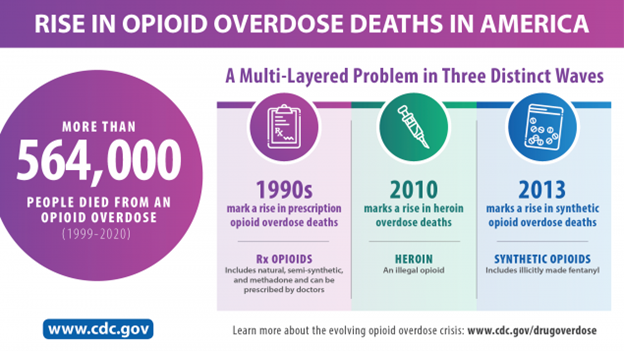 Prescription Opioids
Prescription opioids such as oxycodone and morphine can be prescribed by doctors to treat moderate to severe pain. More than 191 million opioid prescriptions were dispensed nationwide in 2017. According to the Center for Disease Control and Prevention, as many as one in four patients receiving long-term opioid therapy struggles with opioid addiction.
Fake prescription pills can mimic the look of prescription opioids but contain deadly amounts of harmful drugs including fentanyl and heroin that can cause death. Prescription pills should never be bought online from non-regulated sites or bought from someone else. Learn more about the dangers of fake pills with Your Life Iowa.
Fentanyl
Fentanyl is a synthetic opioid pain reliever that can be prescribed for treating severe pain, typically advanced cancer pain. It is approximately 100 times more potent than morphine and is carefully monitored to divert misuse and abuse.
However, illegally made and distributed fentanyl is increasing in use and can be lethal. In 2020, 75% of drug overdose deaths involved an opioid (CDC). Of those deaths, over 82% involved synthetic opioids such a fentanyl (CDC).
Fentanyl is increasingly found in fake pills purchased illegally. The United States Drug Enforcement Administration (DEA) has determined that three out of every five fake pills laced with fentanyl contain a potentially lethal dose.
Recognizing an Overdose
It can be difficult to recognize an opioid overdose. If you suspect that someone is experiencing an opioid overdose, call 911 immediately. Signs of an opioid overdose can include (CDC):
Small, constricted "pinpoint pupils"
Falling asleep or loss of consciousness
Slow, shallow breathing
Choking or gurgling sounds
Limp body
Pale, blue or cold skin
Naloxone
Access to naloxone can help save a life during an opioid overdose. Naloxone is a non-addictive, life-saving drug that can reverse the effects of an opioid overdose when administered in time. It comes in nasal spray and injectable forms. It won't cause harm if the receiver is not experiencing an opioid overdose so it's best to use it if you think it's a possibility.
If you feel that you or someone you know is at risk for an opioid overdose, it's always a good idea to have naloxone available. Naloxone Iowa provides free naloxone and information about how to use it during an overdose. It is available many pharmacies or by talking with a pharmacist through the Tele-Naloxone program.
Help is available
If you or someone you care about is experiencing an opioid use disorder, help is available. You can talk to a Your Life Iowa counselor any time 24/7, 365 days a year.  We provide free, confidential support and connect you to resources meant to help you get your life back on track. We walk beside you so you're never alone.