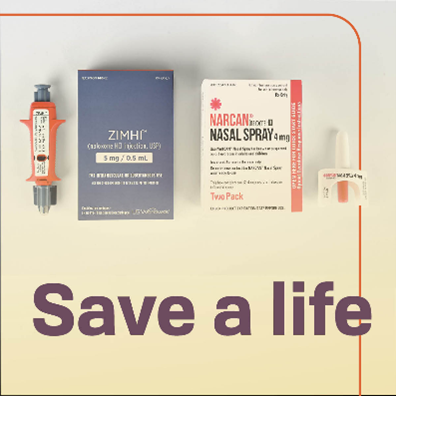 Naloxone is a life-saving, non-addictive drug that can reverse the effects of an opioid overdose when administered in time. It's now available for free in Iowa.
Anyone can purchase and/or carry naloxone, including individuals who do not use opioids or know anyone who uses opioids.
Between 1999 and 2020, more than 564,000 people died from overdoses involving any opioid (CDC). In 2020, 75% of drug overdose deaths involved an opioid (CDC). Of those deaths, over 82% involved synthetic opioids such a fentanyl (CDC).
It can be difficult to recognize an opioid overdose. If you suspect that someone is experiencing an opioid overdose, call 911 immediately. Signs of an opioid overdose can include (CDC):
Small, constricted "pinpoint pupils"
Falling asleep or loss of consciousness
Slow, shallow breathing
Choking or gurgling sounds
Limp body
Pale, blue or cold skin
Naloxone Iowa provides free naloxone and information about how to use it during an overdose to Iowans. It is available many pharmacies or by talking with a pharmacist through the Tele-Naloxone program.
Naloxone is available as a nasal spray and injectable. It will not cause harm if the receiver is not experiencing an overdose – the CDC encourages people to use it if you think someone may be overdoing.
Learn more about naloxone and how you can be prepared to save a life, visit Naloxone Iowa.
If you have a concern or question about substance use, our knowledge, nonjudgmental counselors are available 24/7, every day of the year.