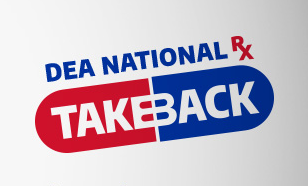 DES MOINES – and state health and safety officials urge Iowans to safely dispose of unused and unneeded medications, especially those accumulated during the pandemic. Local law enforcement agencies, pharmacies and others are teaming up to collect leftover prescription drugs, as part of this special one-day event held each spring and fall. The spring collection, which netted nearly 6 tons of old medicine last year, was cancelled earlier this year as a precaution due to COVID-19. 
National Prescription Drug Take Back Day aims to provide a safe, convenient, and responsible means of disposing of prescription drugs, while also educating the general public about the potential for abuse of medications. In addition to protecting against environmental contamination caused by improper medication disposal, such as toilet flushing, the Take Back program helps prevent the dangerous misuse of opioid pain relievers and other prescription drugs.
The Governor's Office of Drug Control Policy, Iowa Board of Pharmacy, Iowa Department of Public Health, and Iowa Department of Public Safety encourage Iowans to clean out medicine cabinets and take excess medications to one of Iowa's Prescription Drug Take Back locations, including nearly 400 permanent pharmacy and law enforcement center sites available on a year-round basis. According to Jennifer Tiffany from the Iowa Board of Pharmacy, "Over the last year more than 30,000 pounds of unwanted medications have been collected by participating Iowa pharmacies and responsibly destroyed."
According to Kevin Gabbert, Opioid Initiatives Director at the Iowa Department of Public Health, "Studies have indicated that nearly 80 percent of heroin users report their first introduction to opioid use involved a prescription opioid. What is most concerning is that for the majority of the individuals, these prescriptions were not written for them, meaning they were a surplus of someone else's unused prescription. Efforts such as Prescription Drug Take Back days represent an excellent prevention opportunity to reduce availability of prescription opioids and decrease the likelihood of an individual developing an opioid use disorder."
"Every dose properly disposed of on Saturday is one less chance that medication will be diverted illegally to potentially hurt someone else," stated Paul Feddersen, Assistant Director for the Division of Narcotics Enforcement in the Iowa Department of Public Safety.
Saturday's National Prescription Drug Take Back events will operate from 10:00 a.m.-2:00 p.m. at designated sites in about 100 communities across Iowa. For Iowa Take Back details, including education information and nearby collection sites, go to: https://odcp.Iowa.gov/RxTakeBacks.
"Getting rid of unneeded medications is especially important now, because of additional stressors that may be associated with the pandemic," said Dale Woolery, Director of the Governor's Office of Drug Control Policy. "Take Back is a safe step all of us can take to help prevent prescription drug misuse, addiction and overdose."
Iowans needing help for drug using behaviors or mental health can go to the Iowa Department of Public Health's YourLifeIowa.org.
Iowans Urged to Dispose of Medication Stockpiles
Iowans Urged to Dispose of Medication Stockpiles
Iowa Department of Public Health
Iowa Department of Public Health
2020-10-21
2020-10-30