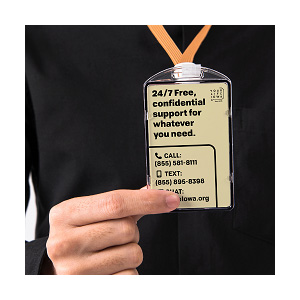 It's now easier for teens to know where to go when they have questions or concerns about alcohol, substance use, mental health and more.
The recently passed House File 602 requires student identification (ID) cards to include the contact information for Your Life Iowa or any successor program starting in July.
This addition ensures students know how to contact a safe, trusted support when they have concerns or questions about topics like substance use, thoughts of suicide and mental health. Your Life Iowa counselors can help teens process difficult situations, answer questions about wellness, help create a safety plan for thoughts of suicide and more.
HF 602 is applicable for all 7-12th grade student ID cards issued after July 1, 2023. The inclusion of this information is optional for IDs issued to students in grades 5 and 6.  
Your Life Iowa has created templates to help you implement this change. Horizontal and vertical templates are available in black & white and color for free.
We can help administrators and educators navigate this process and feel prepared to talk to your students about concerns related to mental health, thoughts of suicide, substance use and more. Learn more about House File 602 and Your Life Iowa here.