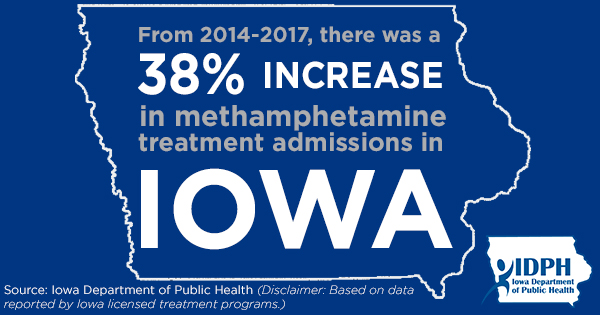 (Published June 28, 2018)
Iowa has experienced a 38% increase in methamphetamine treatment admissions over the past four years. According to the National Institute on Drug Abuse, "Methamphetamine is a highly addictive stimulant. When people stop taking it, withdrawal symptoms can include anxiety, fatigue, severe depression, psychosis, and intense drug cravings."
In order to address this rising concern, the Iowa Department of Public Health has created several new resources to highlight the consequences of methamphetamine use. The following resources can be used to inform your community about the risks associated with the drug, as well as, connect individuals to their local prevention and treatment agency if additional support is needed.
If you would like more information or would like to talk about your questions, click on Live Chat, call (855) 581-8111, or text (855) 895-8398.